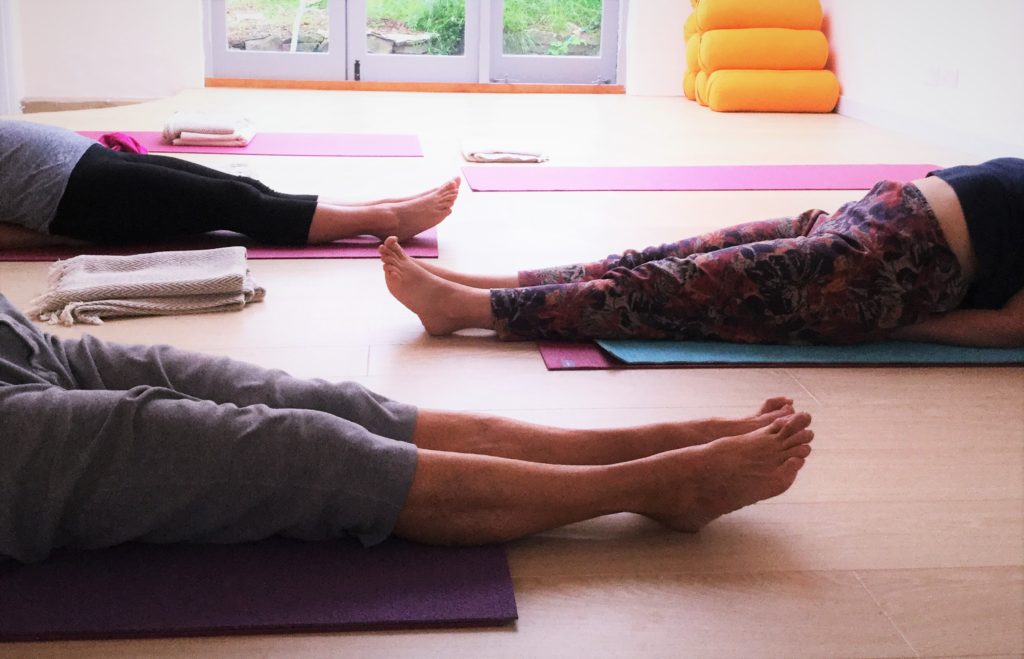 This is a gentle retreat to welcome tentative newbies, wary rusty people and anyone else tempted but daunted by yoga! You know the benefits but for one reason or another haven't got round to properly seeing what yoga can do for you. And yes, there's a lot of lying down. It will be repeated 6 – 8 September.
Come to this lovely day or weekend retreat at Viveka Gardens with yoga, meditation, yoga nidra and yummy vegan food.  Two options:
Day retreat 10.15 for a 10.30 start, finishing at 5.00 with two workshops and lunch
2-Night retreat arriving from 3pm on Friday and leaving around noon on Sunday. It may be possible to stay longer for a bespoke extra session of yoga or coaching (contact to discuss)
SATURDAY DAY RETREAT
10.30 – 1 Introduction to Hatha Yoga workshop
Looking for accessible inspiration to get into  yoga?
Would you like to establish a routine that energises and relaxes you physically and mentally?
Interested in the wider context of yoga?
This workshop will give you a good idea of where you can go with yoga.
Vegan lunch and short meditation walk on the land at Viveka Gardens
2.30 – 5.00 Introduction to Meditation and Yoga Nidra workshop
Do you yearn to relax your mind?
Looking for some beginner steps to regular meditation practice?
Wanting a fresh dimension to your thinking?
In this warm and encouraging workshop you will understand about mind waves and concentration in traditional sitting meditation. You'll also experience the deep relaxation and opportunity for personal insight with yoga nidra, a guided lying down meditation. You will go away with simple, practical techniques to develop your own practice.
Can't make it this time? Check out other 2019 Retreats, including Yoga with food growing
Come to the tranquil and natural Viveka Gardens, tasteful and comfortable accommodation in 8.5 acres of gardens,
Accommodation is in simple single-sex dorm style accommodation with shared bathrooms in tasteful and comfortable converted cob barns. There is the Bliss Barn and the Santosha Loft.  Non-caffeinated teas and barley cup, as well as fruit are available all day.
Coaching and 1-1s with Fiona are possible after breakfast and after supper, and at the end of the retreat. If you are coming to yoga it is likely you are looking to make some changes in your life all round. Fiona is an experienced coach, Sankalpa Coaching.
Had a wonderful retreat day at the yoga farm! Fiona (Sundari) was so kind and thoughtful and tailored the yoga classes to our needs. Had delicious indian vegetarian lunch and a walk through the meadows to look at the trees planted. Such a beautiful and healing place with lovely energy. Would highly recommend. 
K, Exeter
I stayed at Fiona's yoga farm for just one night, but felt like I'd really found a home and that I'd been there a week. It was so utterly beautiful and had a peace and serenity that meant I slept and slept and woke so refreshed. It was wonderful to meet Fiona too, to be made so welcome, to feel so relaxed, and to have so many fascinating conversations. I will definitely return! R, Oxford B&B
What Sundari has created here is really special! So much thought and wisdom put into making a spiritual and cleansing environment… I felt welcomed and accepted – and left feeling refreshed. Thank you, and to all the yogis who shared this lovely teachers' retreat. Jasmine (Ishvari) Teachers' Retreat, May 2018 
As elderly newcomers to Yoga we had 3 – 90 minute sessions with Fiona. On each visit we became quickly relaxed learning to use muscles we had forgotten existed. The whole experience was in enjoyable surroundings and we felt calm and refreshed by the visits. Fiona is a kind and understanding teacher with whom we look forward to continuing our exploration of Yoga. S & G, Coldridge
Beginners' Weekend Retreat Investment: £260 
booking form with payment options
Viveka Gardens is keen to make yoga available to all so bursaries are available for those on benefit. Please contact to discuss.

Schedule
Friday 
Arrival from 2pm
4.00 gentle yoga class
6.00 Supper
7.00 intro/tour Viveka Gardens
8.00 yoga nidra – deep relaxation
10pm lights out
Saturday
7.30 breakfast and free time
10.15 Day Retreat
5.00 free time
6.30 supper
7.30 optional walk or group meditation
10pm lights out
Sunday
7.00 optional group meditation and chanting
7.30 breakfast and free time
10.00 gentle yoga class
11.30 snack,closing meditation and departure
There is also the option to stay for a 1-1 session of yoga or coaching with Fiona
Getting here: contact page
Please continue reading retreat information, rules and Ts & Cs