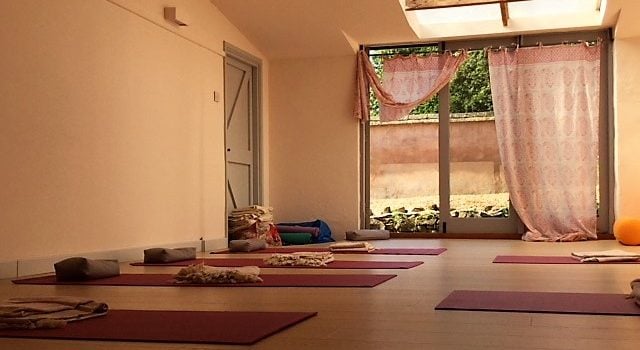 This is a gentle retreat to welcome tentative newbies, wary rusty people and anyone else tempted but daunted by yoga! You know the benefits but for one reason or another haven't got round to properly seeing what yoga can do for you. And yes, there's a lot of lying down.
Come to this lovely day retreat at Viveka Gardens with yoga, meditation, yoga nidra and yummy vegan food.
10.30 – 1 Introduction to Hatha Yoga workshop
The asanas and their benefits on physical, mental and subtle levels
Pranayama
Ways to integrate the yogic approach to living
This workshop will give you a good idea of where you can go with yoga
2.30 – 5.00 Introduction to Meditation and Yoga Nidra workshop
In this warm and encouraging workshop you will understand about mind waves and concentration in traditional sitting meditation. You'll also experience the deep relaxation and opportunity for personal insight with yoga nidra, a guided lying down meditation. You will go away with simple, practical techniques to develop your own practice.
Can't make it this time? Check out regular classes, one to ones and Friday Night Nidra
Day Retreat Investment: £50
Viveka Gardens is keen to make yoga available to all so bursaries are available for those on benefit. Please contact to discuss.
Had a wonderful retreat day at the yoga farm! Fiona (Sundari) was so kind and thoughtful and tailored the yoga classes to our needs. Had delicious indian vegetarian lunch and a walk through the meadows to look at the trees planted. Such a beautiful and healing place with lovely energy. Would highly recommend. 
K, Exeter
What Sundari has created here is really special! So much thought and wisdom put into making a spiritual and cleansing environment… I felt welcomed and accepted – and left feeling refreshed. Jasmine, Cambridge
The whole experience was in enjoyable surroundings and we felt calm and refreshed by the visits. Fiona is a kind and understanding teacher with whom we look forward to continuing our exploration of Yoga. S & G, Coldridge