Information for karma yogis/wwoofers
Thank you for your interest in volunteering at Viveka Gardens Yoga Farm. The purpose of a retreat place is to leave behind mundane matters to go within and find inspiration. Through your efforts on the land and in the inside spaces you can contribute to the higher and more peaceful vibration that facilitates this for all who come here, including yourself. If you are new to ashram-style life there may be some aspects that give the opportunity to go with the flow. Please read the following notes.
Karma Yoga. Please read this blog that describes what karma yoga is, and reflect if this makes sense and is of interest to you. Tasks include gardening and other work on the land, cleaning and cooking. If you have admin, marketing or other skills you are happy to share, that is also appreciated. You will be supported and trained but it's important that you are a self-starter, and especially, finisher.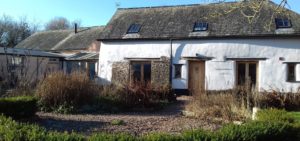 Volunteer agreement
You offer
5 days of 6 hours' effort a week
We offer:
ad hoc training in horticulture according to the tasks in hand of the season
a safe, warm and inclusive environment for relaxation, learning and sharing
an opportunity to develop yoga practices and live an ashram-style life
accommodation and food
experienced coaching and mentoring
a rural location away from it all
opportunity for feedback so that we can improve how we work with volunteers
simple living, high thinking Swami Sivananda

The daily routine includes yoga and meditation, self-directed during quiet times, and led during retreats or when guests are here. You are encouraged to do your practice, whatever that may be, and/or join Fiona. After a communal meal, evenings are generally a quiet time for reading/reflection/journaling/practice/playing music. There is a good range of books on food, natural history and yoga.
A start and end date to your stay are agreed, with the first week as a trial period for both sides. The agreement can be reviewed prior to proposed end date.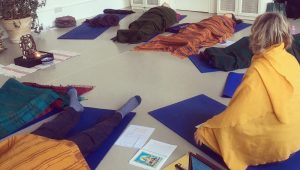 A framework for your time here can be set with coaching goals. My experience wwoofing often was that hosts just wanted me to do the weeding. However, I was in learning and growing mode as I was between stages. At Viveka Gardens we would like to support you in your time out from mainstream. Goals could be about learning to grow food, personal/spiritual goals or whatever is pertinent and you wish to share. This is quite a good description of what coaching is. I will get round to writing a more 'me' one soon.
We follow a vegan yogi diet, always tasty, nutritious and filling, we hope. We offer gluten-free options where at all possible but are not able to cope for more specialised diets. There is an allergy section on the enrolment form.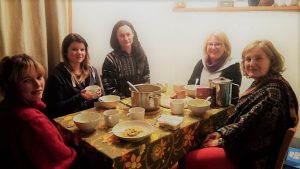 We have lots of lovely herb and spice teas and barleycup for you but black tea and coffee are not available. If you use caffeine, it is a good idea to cut down or better cut it out a week or so before the coming here or you will most likely develop a withdrawal headache. You may want to bring painkillers. Drinking lots, doing asanas and fresh air will help. If you are a caffeine addict you probably want to look for volunteering opportunities elsewhere.
Wifi is slow in this rural area so you are encouraged to make a virtue of it and enjoy a digital detox. Similarly, phone signal is poor. You can of course give the landline number to partner/family for use in case of emergency.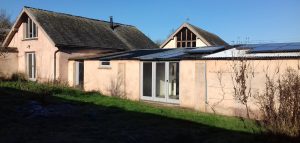 Accommodation is comfortable dorm-style. You may be asked to move bed to accommodate guests if you are here during retreat or there are B&B bookings. We can provide bedding. You are asked to respect the property and its contents as if it were your own (or your grandma's).
The two barns are heated by woodburners. You will be shown how to light and maintain them. It is up to all take responsibility for safe use.
Drainage is via a septic tank which relies on natural organisms to break down effluent so you are invited to bring organic, biodegradable toiletries. Ideally these are not tested on animals and do not contain animal products. A basic range of such products is for sale. Bins are provided for tampons, towels, wipes etc.
You are encouraged to do yoga asanas and meditation or be mindful when others are practising that your activities are peaceful, even if you are somewhere else on the property.
Transport
We will do our best to pick you up and drop you off on arrival/departure. The nearest bus stop is a 30-minute walk away so unless you have your own vehicle you have to be happy to be away from it all. There are nice round walks from the farm. We don't have any bicycles here so far.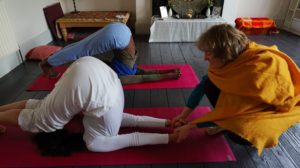 What to bring
Warm and waterproof clothes for outside
Good working boots and probably wellington boots too
Gardening gloves if you have them and possibly secateurs
Yoga mat if you have one/are a yogi
Meditation cushion if you have one/are a yogi
Blanket and/or meditation shawl
Comfortable clothes
Slippers, warm socks
Towel
Ideally bio-degradable, organic wash products (to not harm septic tank flora), not containing animal products nor tested on animals – there are items for sale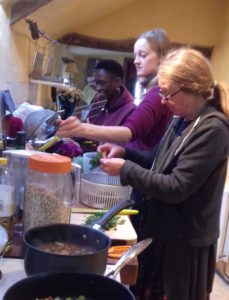 What not to bring: pets, loud music, aggressive/violent/sexual books/music/downloads, fur or other animal products (we accept wool, silk and leather shoes are hard to avoid); see also house rules below
For sale:
Kingfisher toothpaste, soap, Faith in Nature shampoo and conditioner, Dr Bronner soap
Yogi tea, incense, gardening gloves
House Rules
At Viveka Gardens the aspiration is to lift the vibration of the place and visitors. Therefore, you are asked to:
attend meditation and asana sessions
help maintain the peaceful and pure atmosphere of the meditation/altar space and asana studio in particular, also the other inside spaces and the land
use your phone outside or in the hall and be considerate of retreat participants/other volunteers wanting to enjoy the retreat atmosphere
not bring meat, eggs, dairy, fish, tobacco, alcohol, drugs, garlic, onions, caffeine-containing drinks, honey
aim to observe silence overnight from the end of evening meditation to end of morning meditation
leave outside shoes and coats on the hall racks
contribute to the daily tasks in the running of the place as well as your volunteer tasks (included time-wise in your weekly hours)
avoid gossip and negative talk
If it is found that the house rules can't be followed, nor the spirit of the place, we can discuss the way forward, which may include leaving.
Thank you for reading to the end. If you feel you would like to volunteer please complete this form.