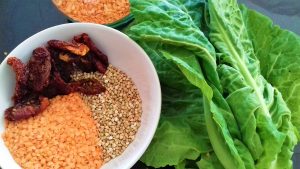 Though April and early May can feel like full spring there's not much harvest yet. Carrots and certain over-wintered brassicas like kale, or spring greens may be coming on. Roots like swede and celeriac, which love a Devon soil, have been in harvest. This year there has been an early glut of carrots. Celery may be coming on or come from Spain. No homegrown tomatoes, green beans, peppers til late July at the earliest!
So here's a quick soup that makes the most of English grown veg available at this time, with store cupboard essentials from the Mediterranean – red lentils, buckwheat, tangy-sweet sundried tomatoes, and bitter-aromatic herbes de Provence. The buckwheat adds a satisfying thickening texture and the red lentils cook easily, both just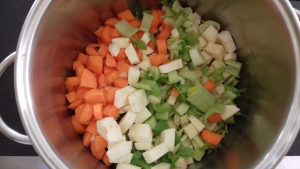 added into the soup.
Ingredients (4- 6 bowls)
2 tbsp organic oil, eg rape seed
1kg of diced veg
1 kettle ful of boiled water (1.7L)
150g buckwheat
150kg red lentils
100g sundried tomatoes cut into pieces c1cm squared
1 good desertspoonful herbes de Provence
a good bunch of spring greens or kale, washed and shredded into 1cm strips
salt and fresh ground pepper
Method
saute the diced veg in the oil on a medium heat, stirring and add in the herbs. Enjoy aromas.
when the veg is softened, pour in the boiled water. Add the buckwheat and lentils
bring to the boil; after 5 minutes turn down the heat to a steady simmer and partially cover for c25 minutes; add in the shredded greens and continue to simmer for another 5 minutes
add salt and pepper
serve with wholemeal bread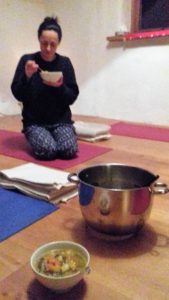 a variant can be to add green lentils and bulgar wheat