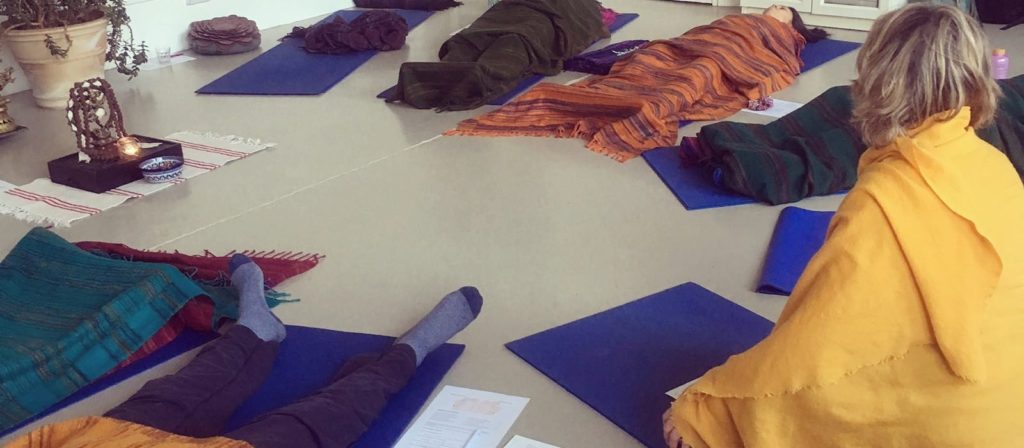 It is really great to be working with Emma Brown, former swami and early teacher of mine, and her students in Bromley, Kent. Emma is a very experienced teacher and Ayurvedic specialist. She will teach a classic Sivananda practice class before the yoga nidra session (separate registration) and provide the post-nidra soup.
Yoga nidra is a guided lying-down meditation technique. It facilitates both deep relaxation and deep personal insight. In this session practice some gentle meditative yoga moves followed by a 40 minute yoga nidra. Stay for wholesome food and company.
​Nidra means 'sleep'; yoga nidra is sleep with awareness. During the practice via a series of guided techniques you will slow the mind waves. By accessing different and completely natural states of mind you can get fresh perspective on life. At the very least you will have a great power nap, and most likely notice improved sleep and mental clarity in the following days. The theme for this workshop at this time of early spring is 'Renewal'. Through the workshop you will have the opportunity to move forward with a current area of 'stuckness' in your life.
Fiona Sundari Law is a long experienced yoga teacher and has used yoga nidra to support the visioning and realisation of Viveka Gardens Yoga Farm. Viveka Gardens is a retreat place in rural Mid-Devon where community and visitors can ground themselves through yoga practices, food growing and nature connection, and so connect with their true self to embody peace and unity
​I found this workshop profoundly beneficial on a mental and physical level. I would highly recommend to anyone, whether you've had any experience with yoga nidra or not.  Gerardo
Yesterday was a truly wonderful experience. I feel an amazing sense of clarity today. I also slept for 13 hours solidly… Thank you so much. LC
Fiona's voice and pace were soothing , the atmosphere was relaxing, sending me off into state of deep relaxation. The workshop felt like a decadent treat for the soul! " Naomi
Information
11.15am to 1.30pm (including food)
Arrival from 11 for quiet start
£20 includes soup
Please book in advance by contacting Emma Brown: sivanandabromley@yahoo.co.uk
Separate Sivananda Practice Class 9.15 – 10.45 £10
Yoga Bromley is at
Ripley Arts Centre
24 Sundridge Avenue
Bromley
BR1 2PX
read more about Yoga Nidra