Group Meditation and Chanting – Satsang
next satsangs:
Saturday May 26, June 23, July 22 6.00pm
Free, followed by food. Donations of flowers and/or fruit for the altar welcome.
Sing your heart out is an expression that captures the joy, sharing, connection and even bliss that singing brings. And group singing  is even better. Chanting is devotional singing, usually in a group, and yogic chanting is in Sanskrit, also known as devanagri, the language of the Gods. When singing kirtan or repeating mantras the chanters tune to a cosmic vibration, lifting the soul. Wow.
Back in our bodies there are many physiological benefits of singing or mantra repetition, a gentle workout for the respiratory and cardio-vascular systems as you carry your  breath, toning of the larynx (helps with snoring), gentle improvement of muscle tone in face, neck and torso, for instance.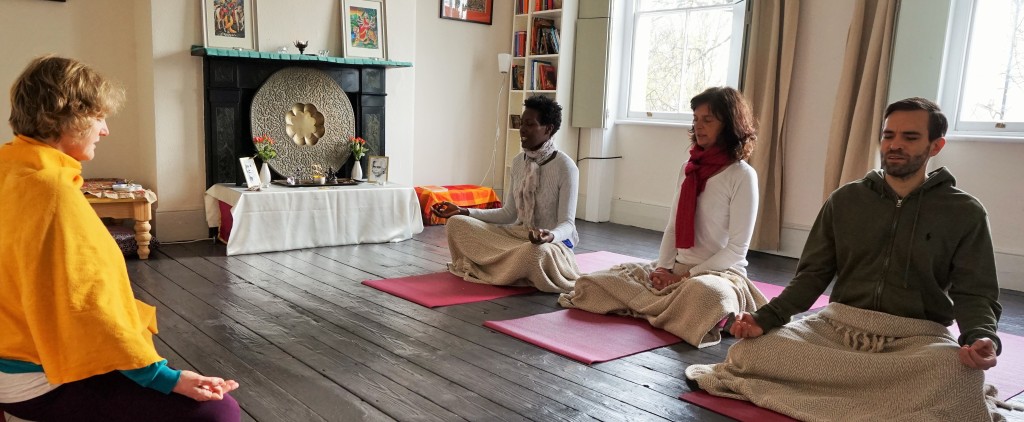 On a mental level the mind is focused and so gets a break from mental chatter, concentration improves with regularity and the left and right hemispheres of the brain work together giving a good feeling of integration. Well-being arises with the release of endorphins and oxytocin, the stress hormone cortisol is reduced.
Here you see yoga students chanting at the beginning of the class. Framing any activity with chants makes a sacred space and invokes blessing. It creates a mindset of focus and calm and allows us to dedicate the activity to the higher Self.
To come together to sing creates wonderful well-being. Studies show that heartbeats synchronise. Not only is a community created, but a feeling of one-ness arises. Being at one is the essence of yoga – connection with the self, fellow humans and the wider cosmos. Chanting is one of the yogic tools that brings you towards this. It needs practice and repetition, slowly but surely raising the vibration in the system.
Here at Viveka Gardens there is regular group chanting in satsang and chanting workshops to develop skills and confidence. Mainly we are yogis from the Sivananda tradition and chant classic kirtan and mantras in Sanskrit, but we are most definitely open to chanting from other traditions of spirit. We use a harmonium but bring your shakers and drums if you want!
You may be interested to read what is bhakti yoga?
CHANTING WORKSHOP – feedback
I loved participating in the Chanting workshop! the content felt full and rich. I enjoyed the fun warm up exercises to begin with which I didn't know about. I feel Sundari shared a wealth of knowledge with us and held space with heart for us to practice chanting and explore the topic together. There were opportunities for practising leading a chant and playing the harmonium – yey! I felt excited and safe enough to have a go under Sundari's guidance and with the support of the group also. All in all it was a really positive experience and I feel encouraged and inspired to build on it. I have a new respect and appreciation for all the teachers out there that make leading chants look so easy. And – great handouts! I feel blessed, thank you. Teresa (Chanting workshop, October 2016)