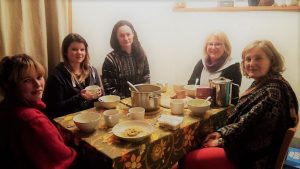 It's the details of a vision where you can warm your hands when the big picture seems a bit nebulous. A wholesale order of organic pulses, grains, nuts, seeds, dried fruit, herbs and spices has been a sustaining dream over the past two years. And yay, the first order has arrived! Feeding guests tasty, good food cooked with love is an important part of what we do at Viveka Gardens. Thursday evening post-yoga soup already seems to be a tradition and it is very nice to feel that community is establishing.
Hodmedods and their inspiring revival range of British grown pulses and quinoa have been an inspiration since 2012. Fava beans were a British peasant medieval staple and do well in the British season whereas Mediterranean beans such as borlotti need hotter sun for longer most years. This squash came from Portugal via a posh supermarket – at least it wasn't Argentina. Next year we will have our own beans and squash full of Devon summer sunshine in store to use through the winter, giving protein, carbs and vitamins. Herbes de Provence give a blast of Mediterranean warmth and bitter compounds to help digest the pulses – an alternative to the cumin and mustard seed axis in Indian recipes, eg mung dhal chancing style. I'm a big fan of the aromatic and tasty celeriac that seems to do so well in Devon red soil. Celery is an alternative (has to be organic as otherwise it's super-dowsed in pesticides).
Ingredients feeds 10 hungry yoga students
1 squash peeled and chunkily diced, about 1.5kgc
1 celeriac peeled and chunkily diced, about 400g or celery (about 5 big outer stems)
750g fava beans (no need to soak) or white beans such as cannellini or butter which need soaking overnight and then drained
4 tablespoons cooking oil (I use organic rapeseed)
about 1L cold water
about 2L boiling water
1 dessert spoon Herbes de Provence
Salt and freshly ground black pepper to taste
juice of one lemon
olive oil to dress
Method
Cover the beans with the cold water and bring to the boil for 10 minutes. Lightly boil until squishy. Leave the fava beans in their water but drain other types.
Meanwhile heat the oil in a big pan and sauté the celeriac for 4 – 5 minutes; add the squash and sauté all together for a further 3 minutes. Add the herbs and stir through the sautéing veg for a further 3- 5 minutes, releasing the aromatic compounds into the oil coating the veg. Add the boiling water. Ensure the veg are covered with water and lightly boil till the squash is soft.
Use a hand blender to make smooth and creamy. If using a jug blender allow the soup to cool before blending. Add the beans and blend again. You may need to top up with boiling water depending on the consistency you want.
Add salt and pepper to taste, lemon juice and a swirl of olive oil.
Serve with a good wholesome loaf and a quality vegan margarine (Biona is a brand I like).