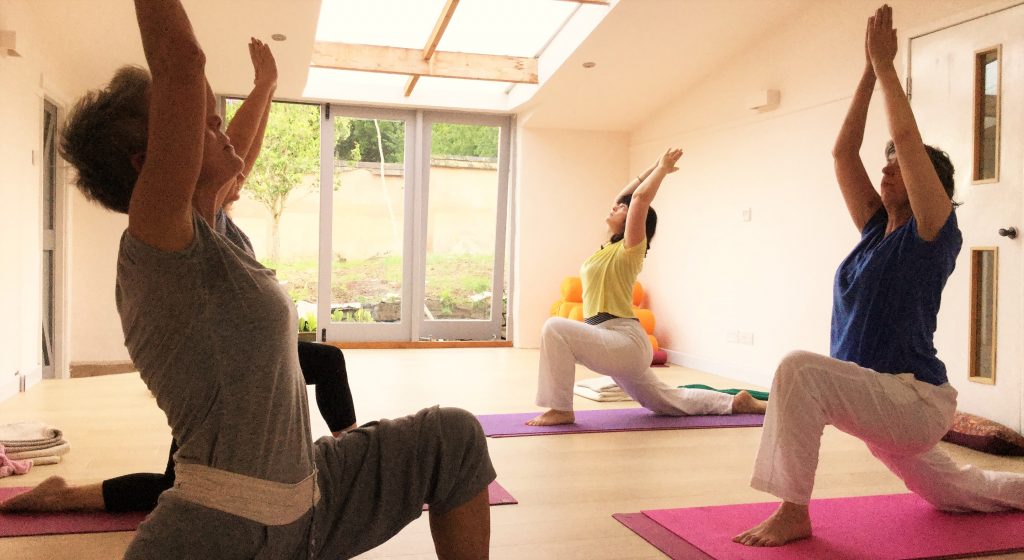 A warm welcome to the Intermediate Yoga Retreat
This is a retreat for people at an intermediate level either through longer experience or strength and flexibility through other fitness or dance. We'll be holding postures longer, doing more advanced variations and extending pranayama.
Prana, pranayama, the subtle body and chakras
The development and management of the vital force, or prana, is key to yoga. Pranayama is a key technique in refining the system and developing intuition. A subtle understanding of the chakras and your energy emerges with practice.
Longer holding of postures and yoga asana variations
As you develop strength and flexibility you are more able to use postures to work more and more with the mind: courage, determination, discernment are all qualities that can be cultivated with longer holding and more challenging variations.
Yoga in tranquil Devon
Enjoy the peace of rural mid Devon and soak in the prana, the vital energy, of nature. A chance to unwind and revive. At Viveka Gardens you can relax. Let go of stress and open to whatever is needed at this moment.
Yogic diet
A yogic diet uplifts and gives energy. We eat fresh, wholesome, delicious vegan food made with mainly local organic veg and organic ingredients. Recipes for prana and read more about the veganyogi diet.
Yoga and food growing
Connect and ground yourself with work in the garden on this retreat. You can develop your knowledge of food growing and be inspired by the life force of nature.
Extend your stay – bespoke yoga retreat
If you'd like to make your trip to Viveka Gardens longer contact us for basic B&B rates, bespoke yoga or coaching sessions
It is also possible to do just the Saturday as a Day retreat, 9.45 – 17.30 £50
Retreat information, rules and Ts & Cs
Viveka Gardens: a retreat place where community and visitors can ground themselves through yoga practices growing and nature connection, and so connect with their true self to embody peace and unity
The purpose of a retreat is to leave behind mundane matters to go within and find inspiration. At Viveka Gardens Yoga Farm we facilitate a space for this. Please continue reading retreat information, rules and Ts & Cs
Cost
comfortable, calm and cosy single sex dorm accommodation
no bunk beds
four vegan meals, fruit, teas
£260
Booking form with payment options
Schedule
Friday 25th August
Arrival from 2pm
4.00 yoga class
6.00 Supper
7.00 intro/tour Viveka Gardens
8.00 short group meditation
10pm lights out
Saturday 26th August
6.00 optional pranyama practice
6.30 group meditation and chanting
7.30 breakfast and free time
10.00 yoga class with focus on pranayama
11.15 tea and talk on prana, pranayama and the subtle body
12.30 lunch
1.30 karma yoga in the kitchen
2.30 – 3.30 optional karma yoga in the garden
4.00 yoga class: shoulderstand and forward bend variations
5.30 departure option to stay for
6.00 supper
7.00 group meditation and chanting (satsang)
Sunday 27th August
6.30 meditation walk
7.30 breakfast and free time
10.00 yoga class: yoga class with longer holding and chakra awareness
11.15 tea and optional work in the garden
12.30 lunch
1.30 karma yoga in the kitchen
2.30 yoga class: backward bend and balance variations
4.00 closing meditation
4.30 departure