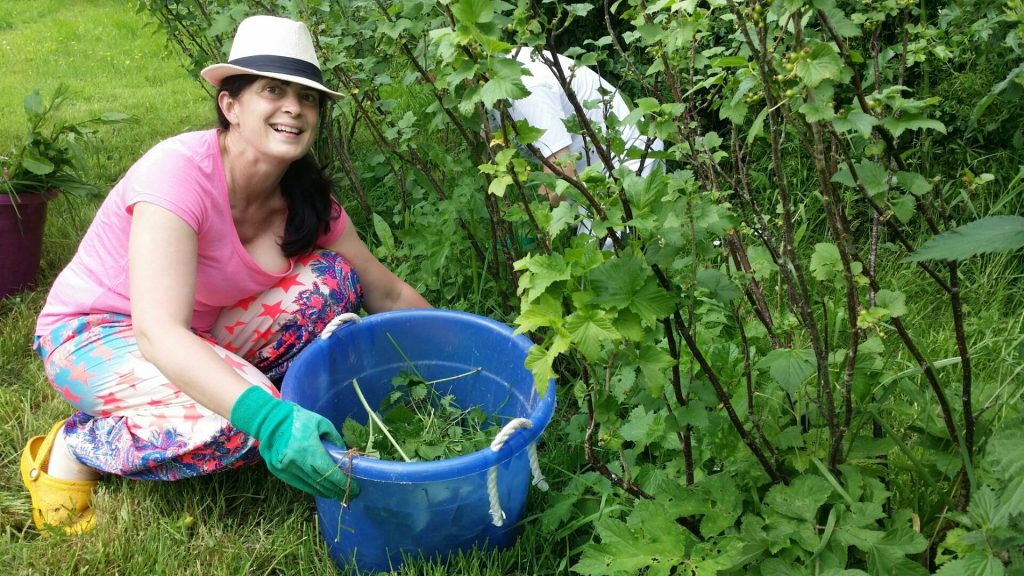 A warm welcome to the Yoga and food growing retreat
Yoga and food growing! Connect and ground yourself. Enjoy the peace of rural mid-Devon and soak in the prana of nature. A chance to unwind and revive. We'll be practising yoga, doing gardening, cooking, eating and practicing nidra and meditating together. There will be time for rest and personal reflection too.
You'll have a chance to develop your understanding of yoga and learn some horticulture. Specifically on this April  retreat we'll be sowing, pricking out (yes, that's an actual term) seedlings and working on other seasonal jobs.
This is a retreat for people at mixed levels of yoga experience and options will be given in the class. As ever, 'maturity' in practice is about breath awareness and connection, which will be facilitated whatever the fitness and mobility.
Yogic diet
A yogic diet uplifts and gives energy. We eat fresh, wholesome, delicious vegan food made with mainly local organic veg and organic ingredients. Recipes for prana and read more about the veganyogi diet.
Yoga and food growing
Connect and ground yourself with work in the garden on this retreat. You can develop your knowledge of food growing and be inspired by the life force of nature. Fiona is both a very experienced yoga teacher and has experience in food growing as well as having taught the RHS Certificate in Horticulture at London's Agricultural College, Capel Manor.
Extend your stay – bespoke yoga retreat
If you'd like to make your trip to Viveka Gardens longer contact us for basic B&B rates, bespoke yoga or coaching sessions
It is also possible to do just the Wednesday as a Day retreat, 9.45 – 17.30 £50
Retreat information, rules and Ts & Cs
Viveka Gardens: a retreat place where community and visitors can ground themselves through yoga practices growing and nature connection, and so connect with their true self to embody peace and unity
The purpose of a retreat is to leave behind mundane matters to go within and find inspiration. At Viveka Gardens Yoga Farm we facilitate a space for this. Please continue reading retreat information, rules and Ts & Cs
Car sharing and use of public transport is encouraged. Please see the application form to offer/ask for lifts.
Cost
comfortable, calm and cosy single sex dorm accommodation
no bunk beds
four vegan meals, fruit, teas
£260
Booking form with payment options
Schedule
Tuesday 3rd April
Arrival from 2pm
4.00 yoga class
6.00 Supper
7.00 intro/tour Viveka Gardens
8.00 short group meditation
10pm lights out
Wednesday 4th April
6.00 optional pranyama practice for experienced yogis
6.30 group meditation and chanting (optional)
7.30 breakfast and free time
9.45 day retreatants arrive for
10.00 yoga class and short yoga nidra
12.30 lunch
1.30 karma yoga in the kitchen
2.30 – 4.00 food growing workshop
4.10 yoga class
5.30 departure for day retreatants with option to stay for
6.00 supper
7.00 group meditation and chanting (satsang)
Thursday 5th April
6.30 meditation walk (optional)
7.30 breakfast and free time
10.00 yoga class
11.15 tea and work in the garden
12.30 lunch
1.30 karma yoga in the kitchen/garden
2.30 yoga class
3.45 closing meditation and departure