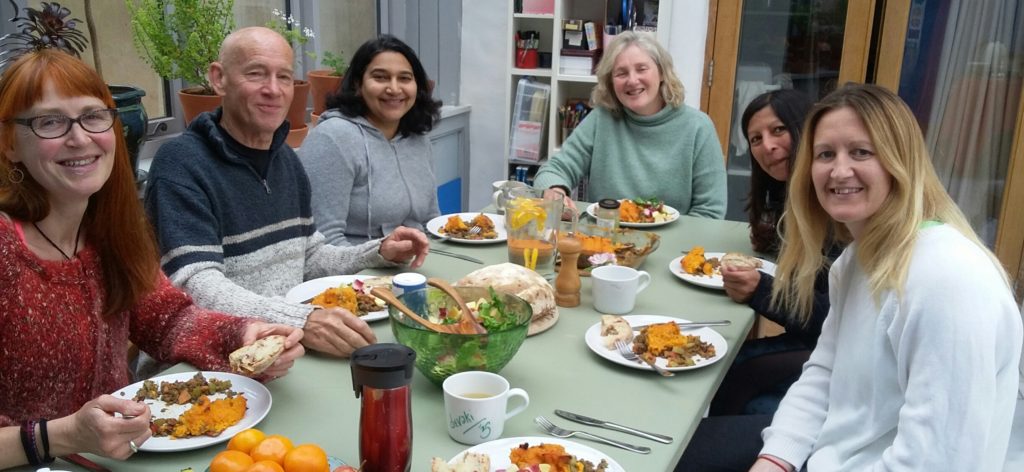 Are you looking to lighten up your diet and move more plant-based? Keen to try new flavours? Curious about protein from dhals and beans? Come and enjoy communal cooking and eat like a yogi!
In Ayurveda (the traditional Indian health system and a sister science to yoga) your dosha is your constitution type. Vata, pitta and kappha, are the Sanskrit names for the doshas. In preparation for the day search 'dosha quiz' and find out your type. Bring an apron, something to tie back long hair, a chopping board and knife. More boards and knives here too. Could be an idea to bring plastic food containers too!
We will chop and prepare a full meal, fresh chutneys, snacks and deserts, and enjoy the fruits of our labour around the table together. Once we've tidied and washed up we'll take a walk on the land here then over tea (and likely some more food) workshop our next steps regarding diet. No yoga this time – we'll be too full! In the spring we'll have a fasting and kriya (cleansing technique) workshop!
This day includes:
basic ayurvedic principles of diet
spicing for dhals and other pulses
reasons for certain restrictions for people on the yogic path
prana, the vital force
co-coached workshop on next dietary steps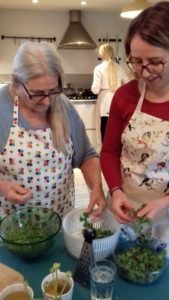 Feedback from previous workshops
'Delicious! These are great recipes I will make at home' M
'Your chutney is the best! This will become a staple' M
'I'm definitely inspired to go more vegan and vegetarian' J
'This was fun and I learned a lot about spicing and cooking consciously' S
A sattvic or pure and wholesome diet, free from cruelty, lifts energy.
Fiona Law is a long time yogi and yoga teacher, and has cooked in Sivananda yoga centres an ashrams.
Viveka Gardens Yoga Farm is about prana – the vital force – and good food as a source of that.  It is possible to book Bed and Breakfast either/both nights and make a bespoke retreat with yoga, nidra or coaching
This day retreat costs £50. Bursaries available for full time students and those on benefit: please contact in advance to arrange.
10.00 arrival for…
10.15 Cooking workshop
1.30 lunch of the food we made together and wash up
2.45 walk, partly in silence
3.30 – 4.30 next steps workshop